Anine Bing's guide to Los Angeles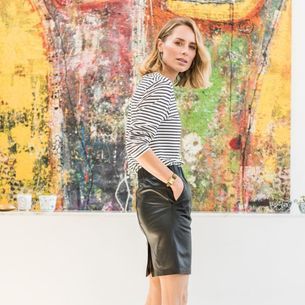 Image credit: @aninebing Instagram
The Danish designer has lived in Los Angeles for 15 years and gives Vogue her city tips.
What is your favourite part of Los Angeles?
"Our neighborhood in Hancock Park. I love the cute main street with shops and restaurants, farmers market and ice cream places."
Where is your favourite place for breakfast in Los Angeles?
"Go get em Tiger! It's a cute café on Larchmont and  they serve the best almond latte in town."
Where is a fun place to eat out in Los Angeles?
"There are so many great restaurants here so it's hard to choose but for a fun night out with my girlfriends I often choose to go the Chateau Marmont. It's fun people watching and it has great ambiance."
How about somewhere romantic?
"Pace! It's located up in Laurel Canyon and it will always be one of my favorite restaurants."
What are your favourite places to go shopping in Los Angeles?
"Rose Bowl. It is THE best flea market in town and I can spend hours there looking for cool vintage t-shirts, boots, candle holders and furniture.
But I also want to mention the Anine Bing boutique on 3rd street in West Hollywood – it's one of my favorite Anine Bing boutiques and it's located on a great street with plenty of other fun stores and restaurants so it's a perfect place for shopping and dining."
Are there any places in Los Angeles that are off-the-beaten track?
"You should definitely take the car and drive up the coast. Make a stop at Point Dume and walk down to the local beach there. It's quiet and so so beautiful. The water is turquoise and there is always dolphins and sometimes whales to be seen.
I also love going to Wi Spa. It's a Korean spa that gives you the best scrubs and massages. The kids loves it too so it's a great spot for the whole family."
Where are your favourite vintage and markets in Los Angeles, and what do you buy from them?
"As well as Rose Bowl, there is also the market on Fairfax and Melrose. You can find so many beautiful gems that I just love bringing home."
Where are your beauty places in Los Angeles?
"Favorite nail salon is Belle Cure.  Lisa Satorn (works at Ken Paves salon) does the best color and Jen Atkin cuts my hair."
Where would you take a tourist for their first time in Los Angeles?
"Hmmm. I'm not a big fan of the tourist spots so I would try to stay as far from them as possible. I would probably take her on a hike to show how beautiful L.A is and how much great nature there is really close to town."
Out of the tourist spots in Los Angeles, which are the best ones to go to?
"I would go to the Grove. That's where the oldest farmers market is located but they also have all the shops you can imagine."
How would you describe LA style?
"It's a great mix between rock n'roll and a bohemian vibe. I love the LA street style and how unique and personalized it is. No one looks the same!"
How has your personal style evolved since moving to LA?
"I have always had a love for leather jackets, denim and a relaxed way of dressing. But after moving here I think the bohemian side of me has started to show a bit more. I love wearing hats and to accessorise more."